STEM Pipeline Blog / July 25, 2022
Meet the Summer 2022 Interns
Sofia Nuri is a rising sophomore at Brown University majoring in environmental science. She is a member of the New Scientist Collective and participated in the New Science Catalyst 2021 Summer program. Sofia spent two years with the Smithsonian National Museum of Natural History learning biotechnology research methods, including DNA sequencing and scanning electron microscope operation.
During her internship at the Carnegie Academy for Science Education Sofia is excited to expand her biotechnology skills, explore other research disciplines, and connect with the amazing researchers on campus.
---
Washington International School
Maddy Fine is a rising 10th grader at Washington International School, a K-12 International Baccalaureate institution. In the sixth grade, Maddy joined WIS's theater program, participating both as an actor and stage manager over the years in eight different productions.
Maddy's public speaking passion led her to WIS's Mock Trial team, where she developed her argumentation skills by analyzing knowledge gaps in texts, and crafting questions to fill them and find the truth. Maddy aspires to continue expanding her interdisciplinary knowledge in history, physics, and law to explore the ways they influence and impact each other in our world today. In her free time, she enjoys science fiction novels, playing video games, and playing the violin.
During her internship with the Carnegie Academy for Science Education, Maddy is looking forward to exploring biotechnology, experiencing the average day of a lab scientist, and connecting with Carnegie's staff scientists!
---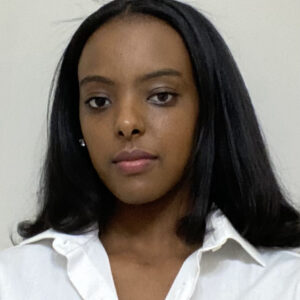 Merry Tola (she/her)
Benjamin Banneker Academic High School
2022 SYEP Summer Intern
Merry Tola (she/her) is a rising senior at Benjamin Banneker Academic High School and an aspiring pediatric surgeon. Throughout her life, Merry has been dedicated to health sciences, and positively impacting the field through activism, volunteering, policy, non-profit organizing, and research.
Outside of school, she volunteers with multiple organizations that dedicate their time to giving back to her community including Howard University Hospital, the National Honors Society, Mu Alpha Theta, and Sociedad Honoraria Hispánica. In 2021, Merry co-founded Community Projects Club (CPC), an organization that supports local homeless and womens' shelters planning their fundraisers, and donates care packages for individuals in need.
Her research interests blend statistics with global public health data. She is currently writing a 15+ page research paper investigating the correlation between the Human Development Index level of countries and Tuberculosis prevalence rates. During her internship at Carnegie Academy for Science Education, Merry hopes to gain biotechnology research experience, explore new projects, and interact with the experts on campus!
---
Rain Terrell (she/her)
Jackson Reed High School
2022 SYEP Summer Intern
Rain Terrell is a rising 11th grader in Jackson Reed High School's biomedical science and engineering program, with a 4.24 GPA. Outside of her classes, Rain is her class's Vice President and the chair of the Biomedical Science and the Engineering club.

A true renaissance scholar, Rain's passions reach beyond science and technology. She has been a cheerleader since she was 3 years old, and traveled the country in the All-Star League, making it to The Summit Regional Championships. Her deep love of exploration and creation lead influences her hobbies, such as baking, crocheting, and sewing. She is dedicated to finding the solutions to her needs and has spent up to a year perfecting her recipes and designs. Using her chemistry knowledge to create perfect cakes, and engineering design skills to develop beautiful products has influenced her commitment to interdisciplinary work. For Rain, design is essential to all she does: nothing is finished unless it also looks beautiful.

Rain hopes her future career will involve all of her passions for biology, creation, and design. She learned of the CASE internships through her school's coursework and the Career-Ready Internship (CRI) program. She is excited to explore the ways biotechnology is used in labs and the day-to-day life of being a scientist!
---
Karma McLeod (she/her)
Palm Beach Community College and Inlet Grove Community High School
2022 SYEP Summer Intern
Karma McLeod (she/her) is a rising high school junior and aspiring biochemist. She is dual enrolled at Palm Beach Community College and Inlet Grove Community High School in the TV and Film Production Academy. Karma is also a gifted athlete, participating in track, soccer, and volleyball at the varsity level.

Her interest in STEM originated through the Marvel Movie Franchise and the biomedical technology in them. Karma found herself thinking "How come someone hasn't invented that yet?" She is determined to find the answers not in film editing, but in a real lab setting.

She is excited to experience a scientific career, and what it takes to create new biomedical advancements! In the future, she looks forward to shaping the world with technology and body integration, starting with the skills she learned at the Carnegie Academy for Science Education.
← Blog Archives